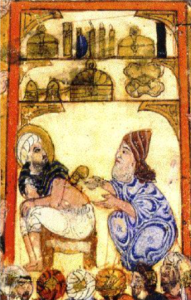 Cups have been used in healing for hundreds of years.  People most recently began rediscovering the benefits of cupping after Michael Phelps in the Rio Olympics in 2016 had unusual circular marks on his shoulders.  The explanation? Cupping therapy. 
Cupping is an ancient Chinese medicine that continues to be used today.  One of the oldest medical  textbooks describing the Egyptian use of cupping dating back to 3500 years ago. 
Today, I work with silicone cups to release the congestion that builds up.