Moon Mná Sacred Space
Wednesday 30th November
7.15pm – 9pm : Online


Receive the Crone Rites of the Cailleach
The Cailleach (Gaelic for Crone and pronounced 'Cal-yack') is the wise old Woman often referred to as the Hag or Grandmother.
She is the last of the triple female forms (Maiden, Mother and Crone) so she has much life experience to share. Her way of talking to us in our Journeys and Dreams is usually very direct and straight to the point but always from a loving and compassionate place.
She is a powerful presence and a formidable energy indeed. In your mind's eye she may be Granny-like or wild and scary or even simply a presence with no visual at all. Often, she appears as a crow or raven. Just as Maiden Gráinne is associated with Springtime and Mother Danu with Summertime, the Cailleach's time is late Autumn and Winter.
Under the Moon, are you ready to step into your sacred 'older woman time' after menopause and embrace your innate wisdom? Do you relish the opportunity to honour your Crone aspect in the presence of like hearted women?  Perhaps you haven't reached menopause but want to do this so that you will have a smooth passage when it is your time.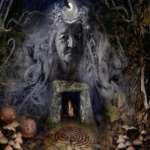 Maybe you want to honour the women in your Lineage who didn't have this opportunity (your mother, grandmother, great granny). If you want to experience the conscious decision to step into all or some of these then you are very welcome to join me to receive the Crone Rites of the Cailleach.
You have an opportunity to step into the Crone/older woman aspect of ourselves, in the presence of soul sisters. With these Rites you may embrace the Crone aspect of yourself no matter what stage of womanhood you currently may be. This will ease your passage to elderhood when your time comes.
By receiving them you are also honouring the Lineage of Women in your heritage.
Preparation for Moon Mná Circle : 
Source a stone to represent your Cronedom as you will have the opportunity to 'call in' 2 witnesses to your Rites, please think about who those people might be and what they might say and/or do. Also have an item that represents the Crone/Wise woman to you.
Pen & Paper.
Zoom connection : this event is online.
Come to experience the powerful energies of like-hearted women as we release, learn and welcome in together.